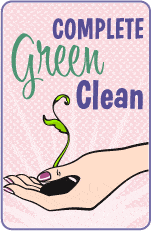 Green cleaning has become main stream; but not all companies who say they provide environmentally responsible methods truly do so. Extra Step Cleaning in St Louis uses only Green Seal™ certified products to clean your home.
We primarily use Core Hydroxi Pro, a hydrogen peroxide-based cleaner for all of our environmentally-concerned customers. It is an extremely effective product that leaves almost no residue of any kind. It is by far the best product we have found in our efforts to provide the St Louis area with the finest green clean possible.
For sanitation purposes, we also use a quaternary ammonium (or Quat) to disinfect your bathrooms and any other areas that you feel necessary.
While many cleaning companies will charge you extra for these types of products, Extra Step simply provides it as part of our award-winning service to our interested customers. If you would like us to use environmentally-friendly cleaning products at your home, please indicate this when you fill out our Free Estimate form, or let us know when you call us at 314-365-3650 for more information.